i don't know anyone who has never watched something on YouTube and i don't know many people who aren't in a video at some point in their life but today i am going to tell you who my top 10 youtubers are and i hope some of these are your favorite youtubers too if not let me know who you like if i missed them and i will have a look at them.
number 10
louise pentland aka sprinkle of glitter
i love love love loiuse she is such a fun and bubbly person and her daughter darcy never fails to make me laugh. i love that louise does videos that i can relate to and her not worth watching videos are always worth watching they are so funny.
number 9
sacconejoly's
i am in love with this family jonathan and anna are amazing people and emilia and eduardo are just gorgeous lovely bubbly children i love how they started of as vlogging just them and it has now involved their children (and their births) they include there ups and downs and they always make me smile. i love the strong family bond and they are so strong it is just amazing if i ever grow up to have a family half as strong as them i would be over the moon.
number 8
alfie deyes aka pointless blog
i have loved the pointlessblog vlogs for a long time now i just find them fun and even when alfies day isn't really full he still manages to make an awsome yet filled video every time. i also love that he always is positive and likes to get his veiwers involved in things for example a few weeks back he did a giveaway for his merch and unfortunately i didn't win throughout the weeks giveaway but its the way i was able to join in that made me feel good and he and many others help build up positivity within so many people.
number 7
joe sugg aka thatcherjoe
he is a funny and amazing youtuber he makes me and millions of others laugh with his fun and odd videos. he is always fresh with ideas and is alway one of the first to bring out a new and improved idea for a video and i love this he is hilarious and his books are just fantastic. i can never find a bad video of joes even his old videos are amazing. also his impressions are just out of this world.
number 6
marcus butler aka marcy butt butt
he is hilarious and just fantastic he is so funny his ore marcus videos with try not too's and reaction videos are amazing. he is also very keen on his health and he has his own company doing sourced boxes with healthy and tasty snacks and i tell you they are amazing. i just feel like all of marcus's videos are fantastic.
number 5
conor maynard
OMFG his voice is out of this world he has a great voice and he is always on it when it comes to remix's and covers they are always fantastic and to be honest most of my favorite songs are made better when conor sings them and his latest video where he has done an RnB remix it is just amazing i will always remember being at school and college and now uni listening t his music.
number 4
zoe sugg aka zoella
she is wonderful she is an inspirational person i feel myself more in common with zoe than anyone else shes funny amazing kind and friendly and you don't get this in many people. i also love her products they are fantastic but back to YouTube she makes me laugh and is just amazing. if i had to choose one person to do a video with it would be zoe i love her energy and she makes me feel calm when anxiety hits watch zoe to calm you down i tell you it works.
number 3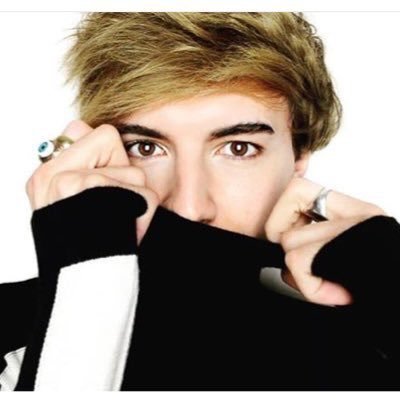 mark ferris
he is fantastic and i really cant wait to meet him at summer in the city he makes me laugh he is just comical his videos are just things i want to see everything he films are amazing also his dog teddi is just adorable and his videos with teddi in make my heart melt and his merch is fantastic i have the head in the clouds phone case and find it fantastic quality. hes a wonderful person and i really cant wait to meet him.
number 2
jack maynard
he is just fantastic hes hilarious and amazing his videos are amazing and i love how he gets his family involved in his videos. he is down to earth and makes everyone laugh. his snapshot is also super. his helium song challenge with anth and conor was so funny and i just love how he makes everyone laugh so easily without worry.
so here we are my number one youtuber i genuinely find this youtuber blooming amazing and i love everything this youtuber does was one of the first youtubers i subscribed to on my first ever YouTube channel with the video of the house tour which was there 2nd ever video on there channel so here we go who is it who is my favourite youtuber
number 1
caspar lee
yes caspar is my favourite YouTube ever funny hilarious never fails to make me laugh and i can remember the first ever time i watch his video's when he did his house tour in south africa and it was hilarious and ever since then i have loved every single video i cant help but laugh. i also love how intriguing his videos are and his vlogs are also hilarious, his video with kevin heart and his roast and many more are the most fantastic thing i have ever watched.
so there we have it the top 10 youtubers in my opinion. don't forget to tell me your fav youtubers and i will be doing another video on small tubers so keep an eye out for that